It takes a lot of patience, dedication, and hard work to reach the top of one's profession. Take, for instance, Sophia N Ayala, a young Latin-American real estate agent that has been established in South Florida for the past 13 years. Being fluent in Spanish and English has been one of the many great skills that have helped her grow as a professional in the US.

Sophia comes from a very humble, hard-working family that based on morals and values, taught her about life with respect and love. She believes that service to others is how they inspired her to become the charismatic person she is. Of course, life isn't all about working. When she isn't previewing properties or assisting clients to find their new home, Sophia is just like every other person who enjoys family/friends' time and outdoor activities. Miami is an excellent place for beach fun, food exploring, and living a healthy lifestyle. Music, culinary arts, literature and technology are some of her many passions.
As a Miami resident herself, Sophia has a good familiarity with the many intangible advantages of living in this coastal paradise including its wonderful weather, diversity, and culture.

Miss Ayala specializes in the most exclusive waterfront properties in North Miami Beach and Hollywood Fl. The professional experience Sophia has built over the years has also empowered her entrepreneurial mindset.
Despite her experiences in other fields and industries, Sophia was very interested in learning the business of real estate to see if she could dominate this field as well. Because of her long list of achievements, she thought it was time to go after that career she had been curious about for a long time. This young lady has always strived to challenge herself to the highest of standards and here again, was another priceless opportunity.

Exploring around most of the biggest cities in the US has given this young expert the confidence to say that Miami is the hottest place to be. Not only because of the amazing tropical weather South Florida offers 365 days a year, but the appreciation Real Estate generates in these areas. Having the largest urban economy in all of Florida gives this magical city status as a world-class tourist destination.

Guiding her clients to make an investment for a new kind of lifestyle is her priority. She takes it seriously when it comes to understanding their needs and working the best deal in order to achieve their goals, maximize value and exceed their expectations.

In 2022 Sophia joined the team Avanti Way realty, the third fastest growing company in South Florida. This company is one of the leaders in technology in the US and is continuously building proprietary software to improve the real estate deal process. Sophia fits perfectly in the Avanti way profile Agentpreneur because of her experience in territory management, cutting edge marketing skills, and her knowledge on blockchain technologies and digital assets.

Sophia's philosophy is based on superior customer service and professionalism from his full-time staff that goes the extra mile in providing the highest level of satisfaction, forming this way long-lasting relationship with clients.

This company is also known for servicing also high-end real estate customers to streamline their luxury residential & high-end commercial needs under one strong brokerage. Her high-end clientele includes national celebrities, top executives, prominent CEOs, professional athletes, politicians, musicians, Fortune 500 CEOs & other high-ranking public figures.

Sophia has been featured in the Miami Agent Magazine and has collaborated with many local and international influential groups and businesses in America.

Exclusive Agent for
AVANTI Way Realty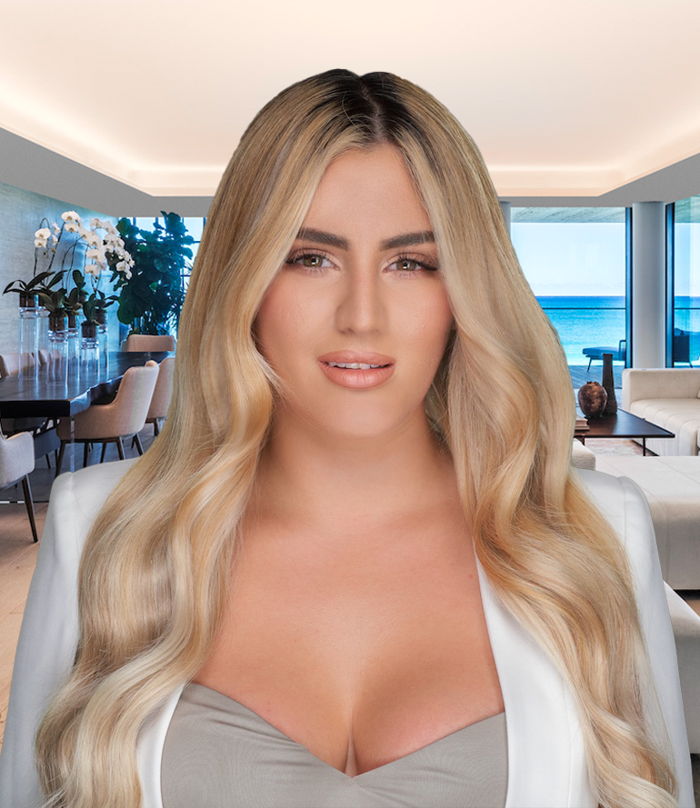 Sold on
0 bed · 1 baths · 443 ft²
A11071442
Bayshore Yacht Tennis C, Unit 410
7904 West Dr, North Bay Village FL, 33141
Rented on
1 beds · 1.5 baths · 720 ft²
A11365472
Brickell Key Ii Condo Brickell Key Ii, Unit 1814
540 Brickell Key Dr, Miami FL, 33131
"Be fearless, believe in yourself"
Client Reviews
Sophia was very helpful and very personable and likable. We were from out of town and met her early this year during the Pandemic but despite the prevailing circumstances she went out of her way to make sure we were able to view listings safely. She took us around and gave us pointers to the area. We really enjoyed working with her. Once we identified what we wanted, she sprang into action and secured the apartment promptly at the price we were comfortable with. I highly recommend Sophia as your expectations will be met and exceeded.
I met Ms. Ayala during her time as a sales rep in the health- care industry where she impressed me with her knowledge and attention to detail. Since transitioning into real estate, she has helped me look into several residences.